I LOVE cupcakes. It is a borderline addiction that honestly, I don't want any help with! I am always on the lookout for new cupcake recipes, and I have recently found a favorite chocolate cake recipe. It is moist, chocolatey, and just overall delicious!
I found this recipe on the back of my Hershey's Cocoa box, but I have adapted it to suit my tastes.
Dark Chocolate Cupcakes Ingredients:
2 cups sugar
1-3/4 cups all-purpose flour
3/4 cup HERSHEY'S SPECIAL DARK Cocoa
1-1/2 teaspoons baking powder
1-1/2 teaspoons baking soda
1 teaspoon salt
2 eggs
1 cup milk
1/2 cup vegetable oil
2 teaspoons vanilla extract
1 cup boiling water
1 Tablespoon + 1 teaspoon instant coffee
Directions:
Heat oven to 350°F. Line 2 cupcake tins with paper liners.
Gently mix together sugar, flour, cocoa, baking powder, baking soda and salt in large bowl.
Dissolve instant coffee in milk.
Add eggs, milk, oil and vanilla to dry mixture and beat on medium speed for about 2 minutes. Stir in boiling water – DON'T PANIC! Your batter will be very thin, about the constancy of melted ice cream.The first time I made this, I panicked a little bit at this point, but the hot water is what makes these so super moist.
The easiest way to measure this is by pouring all of your batter into a large liquid measuring cup, or bowl, with spout. Then you can very easily pour it into cupcake tin. Fill each cupcake about halfway full.
Bake 25 to 30 minutes or until wooden toothpick inserted into center comes out clean. Remove from pans to wire racks. Cool completely.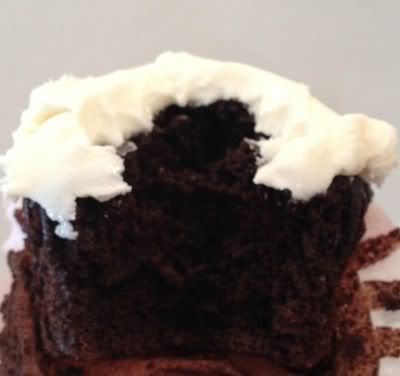 Vanilla Frosting Ingredients:
2 Sticks Softened, unsalted butter
4 cups powdered sugar
2 teaspoons vanilla (or more to taste)
1-2 teaspoons water (optional)
Directions:
This can be made in either a mixer or by hand. I prefer a thicker frosting, so I do it by hand to prevent too much air for being added.
Place your butter in a bowl and mix for a minute to break up stick and get it workable.
Add powdered sugar a little at a time, completely incorporating into the butter.
Add vanilla. Mix for 2-3 minutes. If you frosting is too thick, add 1-2 teaspoons of water to thin.
Spread on cupcakes and enjoy!!
About Jessie:
Jessie is a recently engaged mom of two that has a passion for photography and a love of animals. She is blogging her way through parenthood and life in general on MomVantage. You can also find her on Twitter and on Facebook.